About Nora and Lisa Schultz
WE FEEL LIKE SUPER ENTREPRENEURS! YOU TOO?

We, Nora and Lisa Schultz, have been working together for quite a number of years. We started this company together in 2012 because we wanted to join forces to make good stuff for our clients, like logos, corporate identities, texts, and websites that make them super proud! We especially find professional and enthusiastic visibility very important, because no matter how good your idea is, if no one knows about it, you are doing everything for no reason and that is such a waste of time!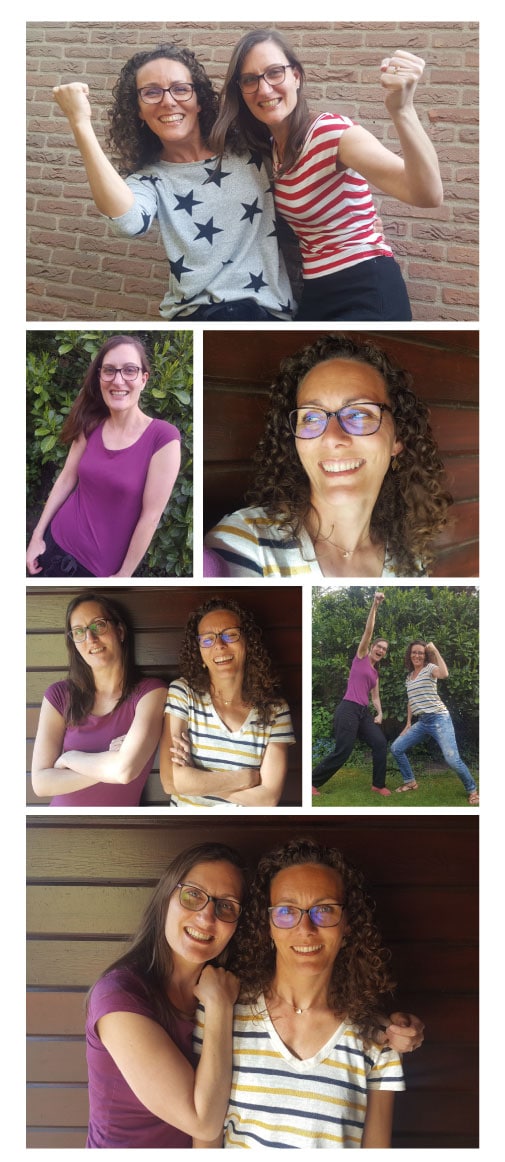 LISA'S BACKGROUND
In 1999, Lisa finished her college education in Corporate Presentation, with a specialization in graphic design, at the Hogeschool Holland. She continues to combine the three most important pillars: marketing, communication, and design. She is a designer who focusses on the result and has a strong commercial approach. After her education, she worked at a wholesaler in promotional gifts and, after that, for many years in photography, which she still loves. She likes to combine her graphic designs with photography in print and web design. She uses her synesthesia (seeing colors and shapes when you hear words and hear names) for a fitting and professional business identity for clients.


Nora and Lisa always wanted to start a little shop together, preferably under the stairs. They sold drawings and plastic bags to their parents for 10 cents apiece. Later, they learned a lot from those parents by working at their photo agency. There, they learned everything about the freedom and responsibilities that come with owning your own company.
In 2002, they started their own foundation, Stichting Smiles, that made them realize what a good team they are. They thoroughly enjoy working together and complement each other well. Lisa is more of a feelings person and Nora is more pragmatic. At Sure Connection, they also complement each other well, now with words and images. With their combined knowledge, way of working, and motivation, they want to help their clients with a strong story and to attract more clients themselves.
Nora completed Culture & Management at Hogeschool Holland in 1996. Organization and planning played large roles. She chose the specialization film festivals and did a 4-month internship at the London Film Festival. During her long career at a photo agency, she gained a lot of commercial experience.
Within her own foundation, which she and her sister started in 2002, she works on the organization and events, communication and fundraising.
As the eldest of two daughters with an American father and Dutch mother, she learned American from birth. It is her father tongue, just like Dutch is her mother tongue. With her love for language, and being raised bilingual, Nora is a very natural and competent translator.
Social Media Specialist
Lisa is a freelance Social Media specialist. She also loves to shoot beautiful pictures and videos. Making that genuine connection between your business and its customers is her priority. Laughing together, getting to know each other, or sharing interesting knowledge: just as you would do with your friends. According to Lisa, social media is an important tool in your branding strategy, determining what you stand for as a company!
Business Strategist
With more than 10 years of management experience in retail, Melanie knows exactly how to shape a commercial assortment, and how to manage margins successfully. In a time where businesses need to fight for the attention and loyalty of the aware customer, it is incredibly important to find that connection. Melanie helps businesses determine their strategy in a way that creates a seamless connection between customer and brand.
IT-ADVICE | IT-SUPPORT | WEBDESIGN
Eric has been active as IT-mannetje for 7 years now, for small and medium-sized businesses. Clients choose Eric for his quality, flexibility, and pleasant way of communicating. Whether the project is a new website, updating an existing website, IT-infrastructure, or Office challenges, IT-mannetje provides the right solution. Eric supports us with his technical knowledge when building websites.
Horeca Consultant
Bas van Venrooij is the owner of Studio Horeca. Their core business is setting up and improving complete concepts for horeca. For these projects, Sure Connection can provide websites, design, and marketing, and Bas gives us advice for horeca clients. A very nice collaboration!
WordPress specialist
Maikel is a true WordPress specialist. He has been turning WordPress inside out for more than 12 years, so there are no more secrets for him. He shares a lot of his knowledge on his website, solves WordPress problems, and can help with maintenance. He also offers a fantastic email marketing program, mailplanner.nl
Webshop Marketing Specialist
Astrid van Kollenburg of Succes with your webshop helps ambitious webshop owners to grow their name recognition, clientele, and revenue. She does so by sharing lots of tips and inspiration through books, blogs, and online training. She also gives masterclasses online, does webshop scans, and 1-on-1 coaching and connects webshop owners in her inspiring webshop community. Her mission is growth!
Online Marketing Professional
Chantal is an online marketing professional with a focus on lead generation and enhancing brand recognition. She has a special interest in initiating and coordinating creative campaigns, content marketing, and search engine marketing.
SEO/SEA Findability Expert
Did you know that 75% of searchers don't look past the first page in Google? Juline, as a marketing fanatic, understands how important it is to score high in Google. With technique, content, and authority, she makes visitor numbers grow exponentially.
Dynamic software solutions
Paul is founder of Go Ahead Connect. Paul and his team have a fitting software solution, including apps, for every question or idea. He loves connecting people and his extensive network offers a lid for every jar. And if that lid doesn't exist yet, he'll build one together with his team.
STUDIO HORECA
NoraLisa
2020-10-09T09:43:37+00:00