Do you have a question, remark, assignment, want a price quote, or just wanna chat?
Bring it on!
Mail to info@sureconnection.nl, call, whatsappen, a card, a cake, or a banner behind an airplane, it's all good!
Want to check out our work first?
CONTACT US
MEETING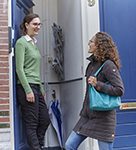 We always enjoy meeting other entrepreneurs! Let us know if you want to meet online and if you have any questions for us. We're here for you!
OFFICIAL ADDRESS
(no offices)
Wakkerstraat 9-2, 1097 CB Amsterdam
Lisa: 06-24689374 | Nora: 06-10207910
E-mail: info@sureconnection.nl
USEFUL INFO