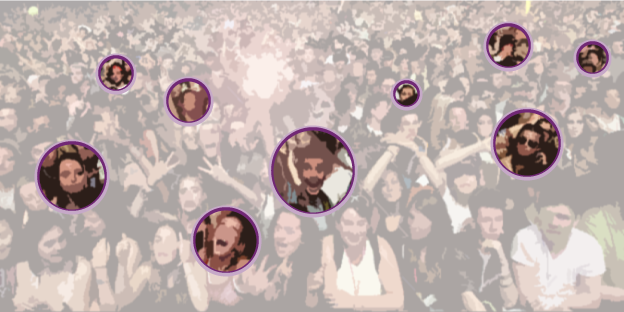 Big target audience? Divide it up!
We received a question from someone we work with: "What is the best way to reach your customers, which words do you choose, and which media? I have customers from 25 to 90 years old!"

As every entrepreneur knows, and has probably read and heard many times, it is very important to determine your target audience. That way, you know exactly who you are speaking to and how to speak to them.

Determining your target audience

In this blog post, you can read what I wrote before about determining your target audience. You really need to understand the difference between your customers and your target audience. Of course it's great if you get a lot of different customers, and who doesn't want more customers? But that doesn't mean that all of your customers are your target audience! There is a 'group' of people that you want to attract most, help most, and feel best with.
Our target audience

For us, they are enthusiastic, driven entrepreneurs who want to work with us on their visibility, and be proud of the result. For example, a new website, because the old one didn't make clear enough what it is they actually do. And therefore they missed out on customers who didn't want to make the effort to read through the website long enough to see if this was indeed the company that was going to help them solve their problem. Website visitors want to know that very quickly. That's just the way it is.

In our target audience, there is that client who started a company and understands right away how important a professional logo and house style are. That someone who designs logos and house styles who is an entrepreneur themselves understands how your customers will react to your logo and house style. And that your neighbor's son, who happens to draw well, doesn't know everything that's behind it. Someone who knows that, we like having as our client.

A company that understands why well-written web texts are important, understands why someone who writes well isn't necessarily a good writer, that company is in our target audience. Someone who reads a text goes through a lot. That person learns something, and feels emotions, and should want to start working with your message! There is a lot of psychology behind a text. For example, a website shouldn't just contain dry information about the products you sell, but also needs to be convincing!

So, our target audience consists of driven, enthusiastic, and involved entrepreneurs who are just starting out or have been at it for a while, who need our help with their visibility, and want to conquer their place in the market.
Not all of your customers are your target audience

Now you know a bit more about the people in our target audience. That doesn't mean that all of our clients fall within that category! Often, people reach out to us with a request for help. If it falls within our area of expertise and we have a good click, and/or we just like the entrepreneur as a person, then we go for it. But that doesn't mean that we necessarily reach out to that person with our marketing.

Back to our contact with that question: "What is the best way to reach your customers, which words do you use, and which media? I have customers from 25 to 90 years old!"

First of all, she has to differentiate between her customers and her target audience. Which group can she help best? Which customers make her happy? And, also not unimportant, who would be most prepared to invest in her product?

Who is situated where?

Next, you can find out where that target audience is situated – quite literally. Do they live in your neighborhood, or in the same city, or throughout the whole country, or even outside of that? Many entrepreneurs with a shop say, for example: "My target audience is in the whole country and even abroad!" They say that because once in a while, someone walks in who doesn't speak the language. "A tourist!", they think. "I want more of those."

I don't agree with that. Because a tourist wanders in once in a while, doesn't mean that tourists are your target audience. First of all, it's very well possible that it's an expat, not a tourist. Or someone who just moved here and doesn't speak the language yet, an often forgotten group.

Not everyone in your country speaks the language

Many Dutch websites do not have an English translation, which annoys me, because they think that people who live abroad aren't a target audience because they don't ship outside of the country anyway. But there are many expats in Holland who don't speak Dutch right away (or ever). Or not even expats but people who've just moved here, want to buy your product, but don't understand your website. By translating your site, you can easily extend your clientele. So these are people who are already coming to your site, that you don't want to scare off, because people, Google Translate sucks! Believe me, I have first-hand experience.

For another entrepreneur, who we've been working with for years, it's exactly the other way around. She has a brick-and-mortar store in the center of Amsterdam and only tourists walk in. So she has to serve these tourists much better in her shop. Everything in English, and don't forget to point out her internationally shipping webshop when someone has trouble making a decision right away. Because they're not going to drop by again next week because they can't put that beautiful handmade purse out of their mind. But by offering free international shipping, for example, she can make another sale. Her webshop is mostly geared toward Dutch customers, by the way, and it sells well throughout the whole country. But so also regularly to foreign countries, because she focusses on that.

Dividing up your target audience

Back to our question: so once you've determined your target audience, you can reach them much better with your marketing. If it turns out her target audience really consists of people between 25 and 90 years old, and her favorite customers are in the whole group: then divide it up!

For example:
Group 1: men and women between 25 and 40.
Group 2: parents of children with health issues such as asthma (applies to this specific business, of course)
Group 3: people between 60 and 90.

You can approach each of these groups in their own way.
Do you need help with how and where? Feel free to contact us and we'll gladly help you!